Artificial Tree
Our company called Beijing Palm. Professionally in producing the artificial trees and plants since 2000. We provide good quality of all kinds of artificial tree which can be made as customer interest. We can also give you suggestion for-the perfect artificial tree solution according to your space or budget.
Recent years, artificial trees are more and more popular for its decorating advantage than real trees which are not ok to survive in a certain environment. Also with developing technique, it's hard to differentiate artificial trees from real trees just according to eyes.
Characteristics of artificial tree
1. 10 level Wind-resistant for outdoor artificial tree, UV-protected suitable for outdoor.
2. Fire prevention, non-combustion characteristics and can be automatically extinguished.
3. Anti-corrosion, moisture-proof, mildew-proof, acid and alkali, no cracks, not easy to deform, washable, non-toxic and odor-free, extremely durable.
4. Environmental protection: all using raw material production, effectively reducing deforestation, protecting nature, and no pollution.
5. With diversity: artificial tree can be used with color and other special effects.
A wide range of large artificial trees for both indoors and outdoor are available here. Preserved Washington palm, preserved date palm, artificial Washington palm, artificial date palm, artificial coconut tree, artificial royal coco palm, artificial bayan/ficus tree, artificial maple tree, artificial bamboo, artificial willow tree, artificial pine tree, artificial cypress tree, and artificial leaves and etc.
Application occasions of artificial tree
Hotels, parks, commercial streets, restaurant, rivers, stations, auditoriums, entertainment venues, ecological gardens, community courtyards, exhibition halls, supermarkets, offices, homes, etc.
Artificial Palm Leaves
Beijing Palm Landscaping Design Co
.
,Ltd,
offers all kinds of artificial palm leaves which are special technique by the means of the latest modern technology. Each palm tree is custom made.
Artificial trees leading a popular trend, why homeowners would like to choose artificial trees, due to in cold environments or lack of sunshine. These trees can be a good choice of decoration,such as a party or a holiday. They take you more ideas for your decorations, sometimes instead of Christmas trees, or just a tropical and sunny atmosphere for your party. Artificial palm trees are a special way to add personality to any activity or season, and the best thing about these trees is that they don't need you to cost much time maintenance, simple dust removal or wiping with wet cloth. It will make them look new and attractive in the years to come.
Details of outdoor artificial palm leaves
Outdoor artificial palm leaves are made by PE material,UV-protected. Fire-proof function can be selected.There are two kinds of shapes,such as"fan" or "feather",fan frond length up to 2 meters & canopy diameter up to 3.8 meters,feather frond length from 2m up to 4m & canopy diameter from 3.5m up to 7.5 meters. Right now only our factory can do this kind.
Pictures of the outdoor artificial Washington palm
Outdoor Artificial Washington Leaf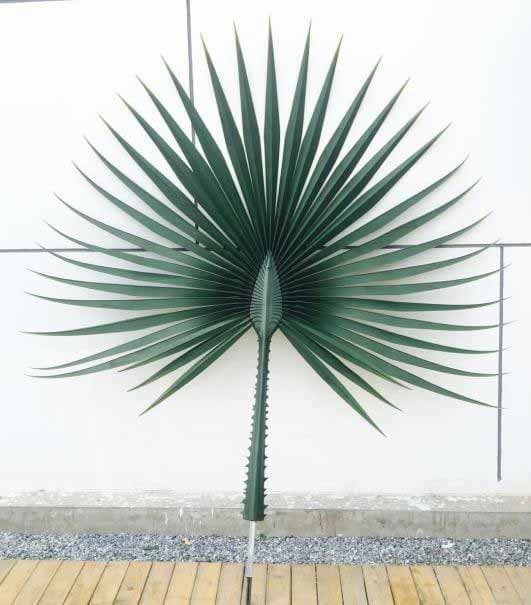 Outdoor Artificial date palm Leaf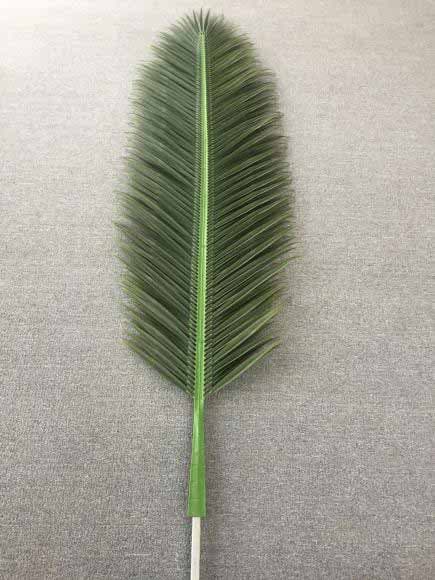 Material

UV-protected plastic leaves

Length

2m-4m

Diameter of the crown

3.5m-7.5m

Advantage

1).High imitation which looks like the real leaves

2).Saving your time and energy- needn't specially care and water.

3).anti-UV,rain,snow,dusty

Life time

5-8 years for leaves

Application

Star hotel, Restaurant,SPA and Airport ect.
Beijing Palm Company had over 20 years of experience in supplying high quality artificial palm. The design and build of your artificial tree is all done in our factory by highly skilled craftsmen. We deliver all our products safely and security.